Kristine Michael
Kristine Michael trained in ceramic design with Dashrath Patel at The National Institute of Design, Ahmedabad and subsequently with Alan Caiger Smith at Aldermaston Pottery, UK. Her formative creative years in Auroville and at The Golden Bridge Pottery in Pondicherry with Ray Meeker and Deborah Smith formed a strong base in wood firing and stoneware glazes.
She has received many awards, among them the Sanskriti Award, Charles Wallace award, Nehru Fellowship and Junior Fellowship from the Ministry of Culture. Her work is a part of important collections at Bradford Museum, Cartwright Hall UK, Seoul Ceramic Foundation at Icheon Korea, The Clay Studio Philadelphia and Essl Museum Austria. She has written articles widely on ceramics both historical and contemporary, as well as on ceramic artists, in publications like Treasures of the Albert Hall Museum Jaipur, Devi Prasad, PR Daroz catalogue for Art Alive, Handicrafts of Gujarat, Jaipur Blue Pottery and was guest editor of the Marg Jan 2018 on Indian Ceramics History and Practice.
She has participated in many international Exhibitions and lectures on Indian ceramics. She researched and curated The Art of Kripal Singh Shekhawat for DAG Modern which opened at the Indian Ceramics Triennale in Jaipur in 2018 and is currently at Museum of Legacies, Jaipur. She is based in New Delhi and is works as Curriculum Leader of Visual and Performing Arts at The British School New Delhi.
Mamta Gautam
Mamta Gautam, Ceramic and glass designer with background in architecture is a designpreneur, design practitioner and an academician with 12 years of experience in product consulting, design research, space design and development. A unique combination of understanding of material handling with systems thinking approach, took her to manufacturing clusters of the country while seeking role of design for micro small and medium enterprises. With her grit to see her vision through its implementation phase, switched roles from a strategist, to a team leader, team player and a process expert in field to see through execution phases.
She brings with herself varied experience that of having worked with craftsmen, small & medium scale manufacturers of Gujarat, Uttar Pradesh, Bihar and corporate clients like Godrej, Mocha, KGK to name a few. Her cluster based approach to manufacturing clusters stretched over engagement of 5 years, took her to seminars and talks on various platforms including National Seminar on Design Clinic Scheme in 2016. Having practised as an architect and design thinker with international exposure she draws her understanding from real time issues while not being limited by them.
She is passionate about systems thinking approach and calls herself a perpetual propagator of systems thinking. Her latest obsession is understanding of economics for designers, is currently engaged as a full time academician at NID Kurukshetra after serving Dirtyhands, a company she co-founded in 2008.
Manish Iyer
Manish Iyer completed his education from NID, with a specialization in Ceramic Design under the umbrella of Industrial Design in the year 1991. After his degree in Ceramic Design he began to contribute to the Industrial Ceramic, one of the agenda core to NID's being.
In his student days at NID, besides the in-house faculty he has also had the opportunity to learn from Deborah and Rey Maker of Golden Bridge Pottery, with Janice Tchalenko from UK on print of clay, with Elina Soraine from Finland on the art of "Nerikomi", and many more. The variety of exposure he has received has been put to use very well and also reflects in the brilliant work he creates for the industrial sector.
In the span of 25 years or more he has worked for range of industries, including, Hitkari Potteries, Diamond Potteries, Clay Craft, Bharat Potteries, La Opala Glassware & Radha Glass Industires, Goodearth Studioline ltd., Palalm Potteries etc,. He worked as a catalyst in Design adaptation, and implementation within the industry's production systems. Through this association with the sector, he has tried many R &D processes and executed towards enhancing efficiency and quality in production, as well as decorating effects on bone china ware, stoneware, oxy porcelain. To his credit, he is cited as a co Patent holder in the Packing technique comprising use of PU foam along with corrugated paper and also flaunts a Design registration for Masala Art range of Bone china ware as a member owner of M/s Designworth.
He is also a co founder of Designworth, a company that offers comprehensive design solutions backed by technical and manufacturing expertise in the field of Design of Tableware, Furniture and Consumer Products.
As a Chief Designer of Designworth, a long association of initiating Designer Tableware production within Ceramic Industrial set up has been carried out by him on behalf of leading 5 star hotel companies. For this he has worked on various projects including all major Hotel chains like ITC Hotels Ltd., India Hotels ltd.(Taj Hotels), EIH Ltd.(Oberoi Hotels), IHHR ( Ananda & ISTA), Hyatts, Westin, Jaypee Hotels ltd., Radisson Hotels etc. across India for tableware , buffet ware, banquet systems etc. To his credit his design abilities has also been sought out for developing a collection of tableware and Souvenirs for Rashtrapati Bhavan and President's body guard of India.
Besides such a long, successful stint in the industry his contribution spans to design education as well. Over the years he has been involved in field of education as a visiting faculty to various design institutes in the country. Has taught full courses in Material technology, Packaging, and Model making; as well as conducted workshops in Paper-craft and Jute.
Pushplata Swarnkar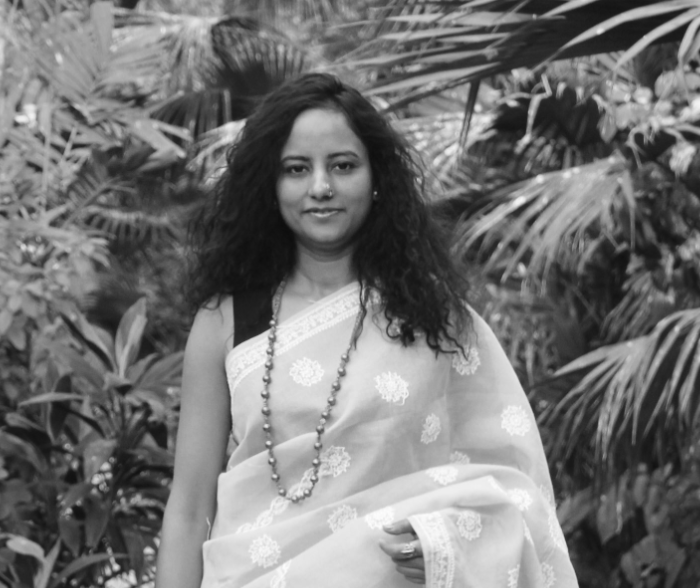 Pushplata has 8 years of working experience in the field of Urban and Rural Sanitation (India & Mozambique) and since last 4 years she is working in the craft sector. She felt the need to find out eco-system based solutions for varied contexts to create meaningful impact. She left the Job with deep urge to disrupt the status quo & start making impact. She founded Serene in 2016 with her strong believe in applying ethnography, systems thinking and human-centred design to create products and services.
She is a design graduate from National Institute of Design (NID) with specialization in Industrial Design (ceramic and glass design). She has done extensive research in Universal Design of Public Toilets and co-authored a seminal paper in area of design of Universal Public Toilets. She also holds several patents in toilet and sanitary appliance design. Pushplata also holds a Diploma in Pottery and Ceramic Technology from Visva-Bharati University, West Bengal. She has worked with the team of Engineers, Social Workers, and Business Professionals on the designing a customer engagement platform that motivates the urban poor for adopting hygienic behaviour while creating revenues for sustainable toilet operations. She has also worked on designing low cost toilets for rural areas and an entrepreneur-driven demand generation model for toilets.
An avid potter herself, Pushplata spends her weekends conducting pottery training sessions for the kids, the blind and the disabled. She is keen to exploit her skills and deepen her learning by working on with different craft projects around the world.
Shikha Agarwal
Shikha Agarwal is an assistant professor teaching in the departments of design and architecture at School of Planning and Architecture, Bhopal. She is pursuing Ph.D. from Industrial Design Centre, IIT Bombay. Her topic of inquiry is 'Designing Inclusive Wayfinding Guidelines for commuters with Different level of vision: Case Study Mumbai Suburban Railways'. Prior to joining in the Ph.D. programme in IIT Bombay, she was a Design Research Associate at NID, Ahmedabad working on a design research project on 'Inclusive design of Public Toilets for Indian slums'. She holds a Master's Degree in Ceramic and Glass Design from National Institute of Design Ahmedabad and Bachelors in fine art degree in painting from Khairagarh University, M.P. Her current research interests include environment & product behaviour research and design research on inclusion. She teaches courses like Design research methods, Inclusive Design, Human behavior mapping, Craft design in masters in the design program and Environment behavior studies, Basic design principles in the undergraduate program of the architecture of SPA Bhopal.
Srila Mookherjee
With her college education in Ceramics at National Institute of Design, Srila Mookherjee spent several months working in a ceramic design studio in Finland, gaining experience. She then went on to London where she first picked up the art of glass blowing under the tutelage of Anthony Stern. When she returned to India several years later, she set up her studio, sourcing all her material and equipment indigenously. Over 2 decades later, she continues to practices her craft and creates pieces from molten glass, always striving to explore and challenge the possibilities of this exciting medium. Every piece she creates is a unique combination of colour, form and artistic expression making them truly one of a kind!
Srila's work is inspired by her passion for both functional art as well as for the vessel form. It is a creative combination of form with function, craft with art which ultimately brings beauty into our everyday lives. The vessel form is one that she has been obsessed with in a variety of different media, from terracotta to glass to porcelain. For her the vessel form is the epitome of beauty. It exists to hold or contain both literally and metaphorically. It is all encompassing in its generosity – it receives, it holds, it gives. It is a vehicle to bring to expression her ideas and feelings as an artist.
She has spent the better part of her working life blowing glass. The spontaneity and impulsiveness of the making process suited her nature and she enjoyed the feeling of immediacy it imparted.
Vanmala Jain
Vanmala Jain trained in Ceramic Design at NID (National Institute of Design, Ahmedabad). Once completed her education in the year 1981 she started working as a designer for a number of crafts including ceramic. Since 1984 she focused her activities towards the development of ceramics and livelihood development through ceramics solely. Parallel to other activities she has been teaching at institutes such as SNDT, Mumbai, JJ school of Art, Mumbai and IDC, IIT Mumbai.
In the year 2000, Vanmala set up a ceramic studio and an enterprise, Kuprkabi Ceramic Design Studio. Kuprakabi is a specialised ceramic design studio which aims to maximize the power of clay to design and develop products in ceramic. The studio specialises in custom designed ceramic products, provide consultancy to private institutions and government sectors, projects with NGO's working with craft communities and spreading of pottery and ceramic awareness programs.
Shirley Bhatnagar
Shirley Bhatnagar is based in New Delhi and is an alumnus of NID, Ahmedabad.She has over 20 years of professional ceramics experience.She works in the intersections of art, craft and design.She set up the Fired Materials department at the Indian Institute of Crafts and design, Jaipur in 2012. She draws inspiration from folk and popular culture and her studio "Irregular Beauty" is known for quirky and humorous products. She has executed prestigious projects for the Indian School of Business, Mumbai International Airport and Art d Inox with Jindal Group amongst many other large private commissions.
She has completed 2 international ceramic residencies Hambidge Art residency in The United States in 2009 and more recently at Koraku Gama in Arita , Japan 2016.She has participated in numerous group shows including The Indian ceramics Triennale , and has 4 solo shows to her credit including one supported Gallerie Romain Rolland by Alliance Francaise in Delhi in 2012. She has been working on ceramic forms for the last 8 years inspired from ancient pottery under the theme of anthropomorphism.
Kavita Pandya Ganguly
Kavita Pandya Ganguly is a practicing ceramics designer and artist. Her journey began as a sculptor but later her education at NID laid the foundation of design. She has faced many challenges and explored many avenues during her 36 years with the material. One of the significant features of Kavita's journey has been that she chose to set up her independent production unit in a fairly rural area vis-à-vis a large metropolitan where maybe commercial success would have been instantaneous!
Instead, she chose to include the marginalized, weaker sections in her unit. Looking back at the challenges, Kavita feels that her choice was not a self-indulgent financially successful one; rather it brought her gains in unexpected ways and generated a source of income for the youth and women of the village. It taught them a skill and reciprocally she too learnt from them.
At present her studio is the only one in India where Nerikomi is used in a commercial way especially to explore garden products, architectural elements and bespoke jewelry.Kavita looks forward to more dynamic explorations in various applications not only developing her personal style but also as a guide to her students and crafts people.
Naman Ahuja
Naman Ahuja, art critic, curator and Professor of Indian Art History at Jawaharlal Nehru University, New Delhi specialises in Indian iconography, sculpture and temple architecture. He is also a co-editor of Marg Publications. Naman Ahuja has taught widely in Europe, the USA and India, and he has curated various acclaimed exhibitions, the most recent of which, The Body in Indian Art was shown at the Palais des Beaux Arts in Brussels and the National Museum, New Delhi.
His curatorial work started at the British Museum in 2001, followed by exhibitions at Casa Asia in Barcelona, the Ashmolean in Oxford as well as numerous venues in India where they range in subject matter from antiquities to contemporary art. His studies on terracotta, ivories and small finds have drawn attention to the foundations of Indian iconography and transcultural exchanges at an everyday, quotidian level. as Fellow at the Ashmolean Museum, Oxford, he authored a comprehensive catalogue of their collections of ancient Indian statuary and archaeological material: The Art & Archaeology of Ancient India (released - Ashmolean, November 2018).
He also has authored and co-authored various publications in the field of Indian art which include: Divine Presence: The Art of India and the Himalayas, The making of the Modern Artist-Craftsman: Devi Prasad, The body in Indian Art and Thought and The Arts and Interiors of Rashtrapati Bhavan: Lutyens and Beyond.
In his latest curatorial venture, leading the Indian half of a team at the CSMVS, Mumbai for the exhibition on India and the World: a history in nine stories (accompanied by a catalogue published by Penguin, 2017), he examined the commensurabilities and divergences of the histories of Indians in relation to other civilizations of the world and the terms at which globalization can be encountered from an Indian perspective.